"Some people believe football is a matter of life and death, I am very disappointed with that attitude. I can assure you it is much, much more important than that"
                                                                             -Bill Shankly
Trevor Francis will always be known as the 'Million Pound Man', the first player to fetch such a fee on the transfer market. He was a well-respected international footballer and club manager, and his tales of England dressing rooms and playing under the legendary Brian Clough, as well as under Graeme Souness, makes him a popular corporate speaker and TV pundit.
Trevor is, and always will be, a legend at Birmingham City, where he started his career.
He spent 8 years there notching up well over 100 League goals, and, already a regular in the England squad, his profilic attack and pace impressed Nottingham Forest manager Brian Clough enough to smash the transfer record and usher in the era of seven figure signings.
He helped Forest to the European Cup in 1979 before leaving for Manchester City and then onto Sampdoria. Trevor Francis was one of the few English players to succeed in Serie A (Fabio Capello has described him as the "best Englishman to have played in Italy.")
He helped Sampdoria win their first ever Coppa Italia title in 1985. Trevor has gone on to manage a number of Premier League sides including Sheffield Wednesday and Birmingham City.
Trevor is a regular TV studio pundit for BeInSport in Doha (Al Jazeera Sports) and Sky Sports, as well as on location at all the big tournaments ie the 2014 World Cup in Brazil.
He is an exceptional corporate speaker; he is inspiring, the stories of his playing days are fascinating and he has proved himself to be a leader both on and off the pitch.
Request Trevor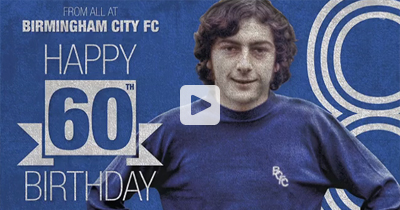 Media Work:
BeInSPORT (Al Jazeera)
Sky Sports