ABOUT US
CLIENT REPRESENTATION
Lloyd Burns Management Ltd is a full-service Sports Management Agency, providing excellent client representation. We take a fully integrated approach to our clients' careers, post-career challenges and personal lives.
We build and maintain strong relationships with all our clients and work together to craft individual career plans and achieve ultimate goals.
We work with brands, PR companies and marketing agencies to initiate proposals and create opportunities specifically designed to the clients' strengths and attributes. We are creative, pro-active, passionate and enthusiastic, allowing the clients to focus 100% on their day jobs while we take on the rest.

LBM succeeds in simplifying and enhancing the lives of our athletes and media personalities by serving as the primary contact for everything from financial advisory assisting, career demands and PR activation, to social media activity, addressing lifestyle needs and providing crisis management.
MEDIA & BROADCAST EXPERIENCE
LBM advises clients on their broadcasting commitments having worked in the media world themselves.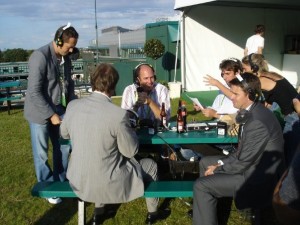 Backgrounds range from presenting bulletins on Radio One, producing TV & radio output for BBC Sport, studio work & outside broadcasts, onscreen reporting for other mainstream channels, writing for national newspapers & producing content for various multi-media platforms.
We have a strong understanding of the industry, having been in front and behind cameras & microphones.
We have also delivered corporate & motivational speeches as well as given talks on business and the media.
CRISIS MANAGEMENT
LBM ensures that all sporting personalities make the headlines for all the right reasons. We help to build and protect the reputation of our clients to maximise their potential.
We have a solid understanding of how the media works, having derived from a variety of journalistic, brand, sponsorship, presenting and programme producing backgrounds.
Not only is this understanding essential for future opportunities for clients, but is also useful for advising clients on working with the media.
CONSULTANCY

LBM also acts as a consultancy service for brands about to launch or looking to re-launch. We devise strategies on how best to utilise ambassadors, social media platforms, advertising and marketing procedures.