EVENT HOSTING
EVENT HOSTING
In additional to offering top personalities, LBM can also offer famous hosts to oversee the entire event. Our TV presenters are well-known & well-respected hosts and MC's of any event, adding professionalism, expertise and entertainment.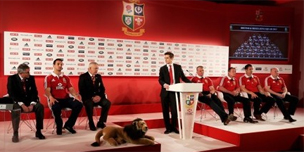 Their experience of working on TV is useful when it comes to dealing with the pressures and challenges that can surround Live situations (autocues failing, microphones not working, running orders changing at the last minute). Their experience, competence and integrity ensures your event is in safe hands.
Our hosts cover a wide range of sports, and are available to MC at any sporting event, where it be entertaining clients at Wembley, hosting corporate hospitality at Silverstone, running through the race card and providing tips at the Cheltenham Festival, or hosting a sponsors at Twickenham.
LBM's broadcasters can also host at non-sporting events such as leading debates for councils, hosting lunches at law firms, MC'ing dinners at investment banks, presenting at fashions shows, drinks receptions – anything and everything.
VOICE-OVERS
All our presenters are fully trained in all areas of broadcasting, and are available to voice commercials, radio ads, documentaries and TV shows amongst others things.