BROADCASTING, MEDIA AND PR
BROADCASTING

LBM manages some top broadcasting personalities, as well as guiding and preparing sporting talent to forge a second career by moving into the media.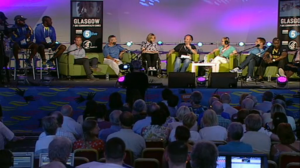 We have strategies in place to help clients gain the experiences they need to be popular and successful media pundits and experts in their field. We instil the confidence needed to be as successful behind the camera and microphone as in their sport.
MEDIA TRAINING

LBM offers top class media training & consultancy to all clients, advising on how to handle tricky questions, producing soundbytes and building a rapport with the media. LBM also offers voice coaching and advice on posture.
PR  ACTIVATION

As part of our service, we offer to help clients with a variety of PR strategies, ensuring their work and achievements don't go unnoticed. LBM is responsible for issuing press releases, initiating press conferences and helping our clients with the endless demands of social media.
SOCIA MEDIA

In this "always switched on" world we live in, LBM offers to assist clients with their contracted social media commitments. We create strategies designed to drive traffic to websites, all social media and multi-media platforms and are happy to engage with clients on how best to promote and brand their image via social media.