CORPORATE AND MOTIVATIONAL
CORPORATE
LBM clients all excel in their field of sport and enjoy sharing their wealth of experiences with others. They often reveal an insight into their lives, their achievements, their mental & physical strengths, their winning mentality; the determination, focus, energy and fear of failure that drives them to be the best, to turn the ordinary into the extraordinary and to push themselves beyond their limits.
They can allude to the pressures of being, and remaining, at the top of their game, the dangers of their sport, injuries, tales of travelling around the world, the influencing characters they have met along the way and their "behind the scenes" stories are highly entertaining.
All LBM clients are available for personal appearances, after-dinner speaking, Q&A lunches, corporate golf days, gala charity balls, sporting hospitality & motivational workshops
Have you ever wondered what it would be like to:
have Brian Clough as your boss
break your bones 700 times
have Barak Obama refer to you in speeches
go to work every day followed around by 2 ambulances
represent your country in several sports
MOTIVATIONAL
All LBM exceptional motivational speakers, illustrating how their values as top sporting personalities can relate to business.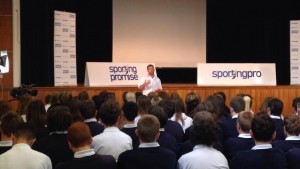 Sport develops skills in management & decision making, being a role model for others and how to achieve self-discipline, self- confidence and a winning mentality; skills often required in the business world.
Some clients also provide key note speeches (and have done so to law firms, investment banks & to the government).
Our clients enjoy hosting motivational workshops, discussing key leadership qualities, such how to inspire a team, lead when the chips are down, how to turn failure into success and the best ways of dealing with the pressures of captaincy and leadership.
LBM can also offer an appropriate host/presenter/MC to work alongside their sporting talent at an event.